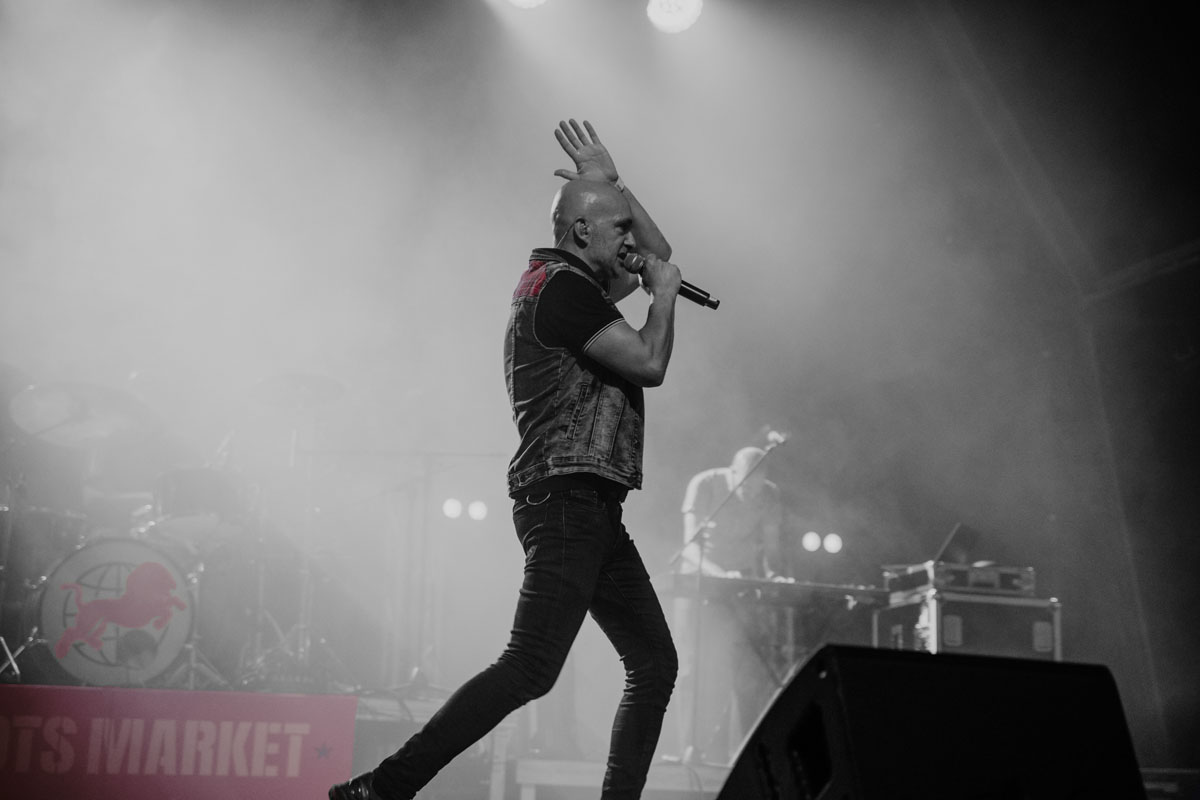 Juantxo Skalari led the Navarrese band Skalariak for more than 13 years, releasing 5 studio albums and one live album, making it one of the most important ska bands in Spain and internationally. With this project they made several European tours, releasing their albums in countries such as Italy, France, Switzerland or Germany, and performing at the best festivals, but also in Latin America where they filled in 2006 the Centro Espectaculos del Rayo in Mexico City (5.000 per) and the Victor Jara Stadium in Santiago de Chile (4.000 per).
In 2008, Juantxo Skalari starts the experimental project The Kluba, where he fuses Ska with Rockabilly (Skabilly). At the end of 2012, after a beastly train tour all over Europe offering improvised concerts on the streets, in small venues or on trains, Jsk publishes a book.cd where he reviews his career so far. 18 years of music and message under the title -Jsk 1994-2012 "Mensajes, Anti-Canciones y Poemas de Kalle"-.
From here, an unstoppable presentation tour begins during 2013, which makes him travel to 8 different countries (Mexico, Chile, Costa Rica, Ecuador, Peru, Argentina, Czech Republic…) and tour the best festivals in Spain, about fifty dates in total.
At the end of 2014 the album "Rude Station" was released, and coinciding with 20 years of Skalari music, the Navarrese singer returned to his roots working with his brother Peio. This is how the Skalari sound returns, with the union in the studio of the two brothers, under the supervision of Kaki Arkarazo.
For this album, Juantxo is accompanied this time by La Rude Band, which accompanies him live and with which he achieved great harmony during the "Rude Station Tour" 2015.
A tour that covered part of Europe (Germany, Switzerland, Italy, Czech Republic…), with several Sold-Out shows (Madrid, Barcelona, Valencia, Berlin, Prague, Cologne…) and which ended with a double Sold-Out presentation of the new album in Mexico (Mexico D.F., Guadalajara) in front of more than 2,000 people.
During 2016, the already established band "Juantxo Skalari & La Rude Band" embarked on a new tour to present their new album "London Studio Session". A vinyl edition single recorded at Toe Rag studios (100% vintage), in London. All under the musical production and mixing of Liam Watson, with a Grammy behind him, and known for different production works for Madness and White Stripes.
During that "Special Roots Tour" JSK travelled through three different continents with outstanding concerts like the one in Chile, and memorable tours like the one in Japan, with which they ended the year on a high note.
The 2017 began with the release of the single-hit "Rudi Not Dead", a preview of the new album "Rudi Records" expected for 2018. That tour whose single gave it its name ("Rudi Not Dead Tour") where he claimed all that movement that has launched ska, rocksteady or reggae throughout its more than 50 years of history. That year Juantxo Skalari & La Rude Band made a new tour of Mexico (interrupted by an earthquake), memorable concerts like the one in Barcelona in a boiling Sala Apolo, as well as the preparation of a new album that would enter its final phase of recording from November.
The 2018 opens with a new album ("Rudi Records"), recorded and mixed between London, Barcelona/Girona and Arbizu-Navarra and its related presentation on tour starting in February between Europe and Latin America (Mexico, Chile, Colombia, France, Italy…).
During 2019, Skalari celebrated 25 years of history by releasing a double LP compilation ("Skalari 25 Anniversary") and their second book "JSK. Memorias de kalle y tren" (2019, Txalaparta). During the 25th anniversary tour he visited different countries in Europe and Latin America (Chile, Colombia, Mexico, Germany, Czech Republic, France, Italy…), as well as Spain.
At the end of 2020, in the middle of the pandemic situation, they released a new album entitled "Roots Market", with a Skalari sound more typical of the "XXI Century", where they recreate a conceptual space of a cooperative market of the future with a roots flavour. Some intermittent concerts are opened in acoustic format under the name of "Jsk Unplugged", as well as a presentation tour of the new album "Roots Market Tour" during 2021 and 2022 that makes the project "Juantxo Skalari & La Rude Band" travel through various cities of the state and Latin American geography (Mexico, Chile, Argentina and Colombia) where he makes a tour, hand to hand, with the legendary English band Bad Manners.
In 2023 he releases a new album and opens a new tour with the same name: "Super Roots Market". The new vinyl expands the content of "Roots Market" by adding 6 unreleased songs, with two new compositions, two dub remixes by producers such as Roberto Sánchez and Chalart 58 and two collector's rarities.
As of today, Juantxo Skalari has performed more than a thousand concerts throughout his 29-year career, has released 10 studio albums, 1 double live album, two DVD documentaries, two CD-books, two double vinyl LPs compiling his entire musical career and this latest vinyl work called "Super Roots Market".
Albums, books and documentaries
1997 "SKALARIAK" Skalariak. CD
1999 "KLUB SKA" Skalariak. CD
2001 "EN LA KALLE" Skalariak. CD
2002 "STREET'S SKA" (Docu-musical 70') Skalariak. VHS
2003 "RADIO GHETTO" Skalariak. CD
2005 "LUZ REBELDE" Skalariak. CD
2007 "SKA REPUBLIK CONCERT" Skalariak. 2 CDS + DVD
2007 "GHETTO REBELDE" (Docu-musical 60') Skalariak. DVD
2009 "THE KLUBA" The Kluba. CD
2012 "AMOR, ODIO Y RUIDO" The Kluba. CD
2012 "MENSAJES, ANTI-CANCIONES Y POEMAS DE KALLE" Juantxo Skalari. BOOK + CD.
2014 "RUDE STATION" Juantxo Skalari & La Rude Band. CD
2017 "RUDI RECORDS" Juantxo Skalari & La Rude Band. CD
2019 "MEMORIAS DE KALLE Y TREN" Juantxo Skalari. BOOK (274 pages) + 2 CDS
2019 "SKALARI 25 ANNIVERSARY". DOUBLE VINIL compilation.
2020 "ROOTS MARKET" Juantxo Skalari & La Rude Band. VINIL
2021 "SKALARI 25 +1 ". DOUBLE VINIL compilation.
2023 "SUPER ROOTS MARKET" Juantxo Skalari & La Rude Band. VINIL